A little footbath can make a big difference!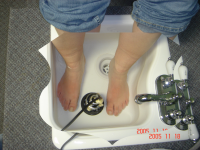 The Detoxifying Footbath is designed to restore the body's energy balance and facilitate its natural detoxification process by recharging your body and balancing body pH.
Functioning of the human body is based on the exchange of electromagnetic signals at the cellular level.  Movement in and out of the cells is accomplished by the exchange of electrons.  The body sends these signals to the brain.  This results in a balanced flow of body fluids and energy throughout our organ, nervous and circulatory systems.
Toxins often interfere with this healthy flow and the body then retains the toxins rather than purging them.  We pick up toxins from the environment, food, water, illnesses and all of the thousands of things we come in contact with every day.  The Detoxifying Footbath simply and comfortably helps re-establish a healthy flow of ionic exchange at the cellular level, which results in normal purging of cellular waste.
Process
The process is one of immersing the feet in a naturally relaxing, warm footbath utilizing pure sea salt for approximately 30 minutes.  The benefits are based on the ionization of water using sea salt and the natural osmosis of our cells, which moves toxins from cell to cell and out of the body.  There are 7200 nerve endings and 2000 sweat glands in the feet, as well as arteries and veins, which are natural gateways for disposal of waste products.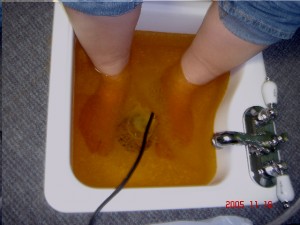 The wide range of people using a footbath treatment include:
Anyone with low energy, extreme fatigue or tension
Anyone under severe stress
People with allergies
Those with pain from gout, arthritis, inflammation or fibromyaligia
Anyone recovering from an accident or surgery
People with heavy metal or chemical exposure or candida issues
Anyone who is exposed to chemicals through food sources
Always check with your physician if you are uncertain about any health regimens.
To Schedule Your Appointment
Call 310-614-1828 to schedule your detoxifying footbath.
Prices range from $40.00 to $60.00 per session.