CEDSA  Computerized Electro-Dermal Stress Analysis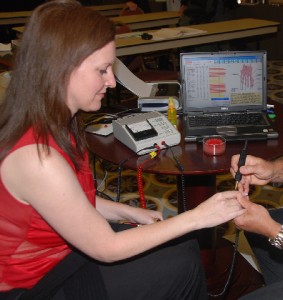 Dr. Sylva integrates Computerized ElectroDermal Stress Analysis into her practice. The CEDSA is the end-product of a 50-year evolution in Biological Energetic/biofeedback testing. A technique used widely in the most progressive institutions throughout the world, especially in forward leaders like Germany, France, England, Canada, and the United States. It is based on the Chinese medical theory that improper energy flow through the acupuncture meridians causes energy imbalances. After years of study, doctors have identified the interrelationship between acupuncture point measurement and individual organs and tissues.
How the CEDSA Can Help You
The CEDSA is able to measure the balance or imbalance of your various organs and tissues, then match you up with the remedy that will bring you into balance. It can also monitor your progress. This is a simple painless test, with no side effects.
For more information or to schedule an appointment please call Dr. Dvorak at: 310-614-1828.