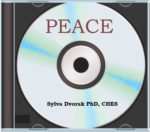 To claim your free download of the PEACE – Visualization and Relaxation Exercises for a Healthy Mind CD simply provide your information in the Gift Registration Box below. You'll receive instructions on how to download the CD right away. If you have any difficulty, kindly contact our Customer Care Team at info@drsylvadvorak.com
The Peace of Mind CD provides six different guided visualization and relaxation meditations. Each meditation track begins right away so no need to listen to instructions each time or having to fast forward to find the meditation. The sixth track is just relaxing music you can use to guide yourself into a deep relaxed state. Download and increase your peace of mind….
Instant Relaxation
Visualization Exercise
Time for Relaxation
Deep Breathing
Progressive Relaxation
Music for Relaxation
Peace and Blessings!

Claim Your Free Bonus Gift Here